Single Tooth Implant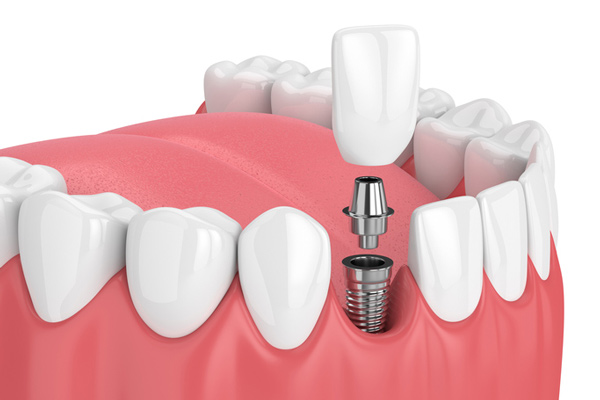 Do you seem to be missing a tooth or maybe even more? Getting dental implants is one of the best ways of filling the gap where you once had a tooth. Having missing teeth can adversely affect the oral health of your mouth as it can restrict your ability to chew and affect the structure of your jaw. Dental implants are the perfect solution for tooth restoration.


What are Dental Implants?

A dental implant is made out of titanium, and a screw-like post is inserted into the jawbone, replicating the root of a natural tooth. Dental implants are a permanent solution for replacing missing teeth. The implant post bonds tightly with the jawbone and acts as an anchor that holds the replacement tooth. Dental implants have the same properties as natural teeth and must be taken care of the same way you would care for your regular teeth.

Due to the advancements of dental technology, dentists can determine the exact size, dimensions, and placement of the implant. Digital x-rays, intraoral cameras, and digital impressions have changed the game of diagnosing and treating dental issues.

In order to be a good candidate for single tooth dental implants, the patient must have a strong jaw structure, and the health of their gums and the rest of their teeth should be healthy enough to withstand the procedure. People with good oral hygiene who are also non-smokers benefit the most from single tooth implants as there are minimum chances of plaque buildup, and the risk of infection is eliminated.


Pros of Dental Implants

Dental implants are long-lasting and have an exceptionally high success rate of 95%. They are permanent fixtures in your mouth that will last up to 20 years or more. They are easy to care for, and they help preserve the appearance and integrity of your facial structure and jawbone. Dental implants act exactly like regular teeth, and they allow the bone to grow. It is possible to get dental implants in a single visit to the dentist; however, you will have to go in for follow-ups and aftercare consultation.


Cons of Dental Implants

Dental implants are more expensive than dentures, and not everyone can be a suitable candidate for getting implants. If the patient has weak gums and bones, the implants will not be able to fit properly into the jaw.


Types of Dental Implants

Traditionally, there are two main types of dental implants: the first type is endosteal, and the other is subperiosteal. Endosteal is a type of implant that is inserted in the bone, while the subperiosteal refers to the type that sits on top of the jawbone, underneath the gum tissue. Such implants are no longer in practice due to their poor long-term effects, and thus, endosteal dental implants are used.

To learn more about single tooth dental implants and the options available for tooth restoration, call (360) 633-2377 and schedule your dental checkup with Dr. Kasey Gillespie, DDS.